For anyone struggling with addiction, making the decision to seek treatment is a huge, life-changing step that takes tremendous courage.
But for some who are open to prioritizing their health and mental well-being, the fear of losing their job during rehabilitation is precisely what's holding them back. After all, everyone has bills to pay and responsibilities that can't be put on hold — both at home and the office. How can someone stay gainfully employed while in rehab?
Privacy is also a concern. Considering how personal this journey is and the stigma that often accompanies addiction, the fear of nosy coworkers, what your boss might think, or potential access to your medical records from current and future employers might cause someone to press the pause button on addiction treatment.
While all these concerns are valid and completely understandable, there are proven ways to make it all work. Addiction treatment and employment don't have to be mutually exclusive.
How to Go to Rehab and Keep Your Job
Considering that prescription opiate abuse costs companies somewhere in the neighborhood of $25 billion per year according to a report in The Business Journals, and that alcohol and drug abuse lead to everything from frequent employee absences to theft, a lack of mental clarity, decreased productivity, workplace injuries, and more, it's in everyone's best interest — employee and employer — for treatment to be a priority.
As it turns out, the law is on your side with staying employed during the time you attend treatment.
Some companies have Employee Assistance Programs with benefits that can be used for drug or alcohol addiction counseling.
The Family and Medical Leave Act (FMLA) offers protection for someone taking a leave of absence for medical reasons, which include a substance abuse disorder.
Providing up to 12 weeks of unpaid time off annually without risk of losing your job, the FMLA also calls for employers to maintain your existing group health benefits.
It's important to note that FMLA leave may only be taken for substance abuse treatment provided by a healthcare provider or a facility referred by a healthcare provider. If an employee is missing work because of substance abuse, rather than for rehabilitation, the qualifications for FMLA haven't been met.
To take advantage of these protections, eligible employees must meet the following criteria:
You must be employed by a covered employer.
You must have worked for your employer for at least 12 months.
During the 12-month period, you must have completed 1,250 hours proceeding the proposed leave.
You must work at a location where your employer has at least 50 employees within 75 miles.
Some companies also have Employee Assistance Programs (EAP) benefits that can be used for drug or alcohol addiction counseling. Under these protections, you can't be fired for seeking help. However, if a condition for your ongoing employment means complying with treatment and you fail to do so, you could potentially lose your job.
Multitasking to Make It Work
According to the Substance Abuse and Health Services Association, almost 10 million people with substance abuse disorders hold down full-time jobs.
Of course, the negative impact of substance abuse on the job can't be underestimated, which is why prioritizing recovery is so important.
These days, many programs have a work-release program or opportunities to complete your tasks remotely. Some treatment centers may even have temporary offices at the facility, so you don't have to worry about how you'll get your work done while making time for your physical, emotional, and mental health.
Forging Forward With Hope and Your Privacy
For many people, struggling to admit they have an addiction is difficult enough, let alone feeling like you have to share this revelation with your boss and co-workers.
For those who've decided to invest in their sobriety with treatment, The American Disabilities Act (ADA) provides protection by not allowing discrimination against those who've had a history of drug or alcohol abuse (or both) and have completed rehab.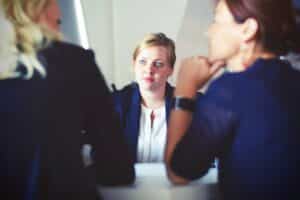 An individual who is currently engaging in illegal drug use is not considered an "individual with a disability," but for those in rehab who aren't using, they meet the criteria of the ADA.
Additionally, confidentiality is often a concern for people who have — or are currently deciding — whether to go to rehab. Certain federal laws, including the Health Insurance Portability and Accountability Act (HIPAA) were crafted to give you more control over your medical records, including details of any alcohol or drug rehab programs you attend.
If you or someone you care about is struggling with emotional trauma, co-occurring disorders, alcohol addiction, or drug addiction, the serene setting of The Meadows Texas is the perfect place to begin your journey of healing. Contact us today to learn more.