By Anna McKenzie
Narcan is an emergency drug used to reverse opioid intoxication during an overdose. It comes in the form of a nasal spray, binding to opioid receptors to block the effects of narcotics on the brain. Historically, Narcan has been used by paramedics and health workers and has only otherwise been available by prescription. Now, retailers have been permitted to sell Narcan (also known as naloxone) over the counter. Many people are asking, Is Narcan FDA approved? Who should get it? Here's what we know about federal approval and sales of Narcan over the counter.
Public Access to Narcan
The opioid crisis in America has worsened over the past several years. According to the Centers for Disease Control and Prevention (CDC), 71,238 deaths in 2021 could be attributed to synthetic opioids such as fentanyl. Fentanyl is an extremely potent opioid analgesic that has increasingly been mixed with other drugs like methamphetamine, cocaine, heroin, and xylazine, heightening the risk of fatal overdoses. The CDC reports total overdose deaths from drugs reached approximately 109,680 in 2022, only slightly higher than 2021. Deaths had climbed significantly that year and the prior year, increasing by about 17% in 2021 and 30% in 2020.

The New York Times revealed in February 2023 that federal panels unanimously recommended public access to Narcan. This easy-to-administer nasal spray — unlike generic naloxone, which currently comes in the form of vials administered by a syringe — allows anyone to help reverse an overdose. The belief of federal experts and healthcare providers is that widespread access to Narcan can stem the tide of overdose deaths, given that it has already saved countless lives. According to NPR, another naloxone nasal spray called RiVive may also be federally reviewed for nonprescription distribution.
Is Narcan FDA Approved?
On March 29, 2023, the US Food and Drug Administration (FDA) approved the use of Narcan over the counter. Narcan is safe and effective, and people can easily administer it without the supervision of a healthcare provider. So who should buy Narcan?
Active drug users, those in recovery, those who have experimented with drugs, and those with loved ones who have struggled with drug use should have Narcan on hand. Even if someone's drug of choice is not opioids, Narcan may be helpful to have in reserve because so many other drugs are now being mixed with synthetic opioids like fentanyl. A person may think they are using marijuana when they may be using marijuana mixed with heroin or fentanyl. In the event of an overdose, Narcan can stop the effects of the opioid. 
Narcan is safe and effective, and people can easily administer it without the supervision of a healthcare provider.
Decreased heart rate and respiration, snoring sounds, blue lips or fingers, speech impairment, confusion, and loss of consciousness may indicate an opioid overdose.
If you know someone who struggles with drug use or is putting themselves in situations where drugs are being used, keep Narcan with you at home or in the car. High school or college students prone to partying can keep Narcan with them in the event that they or a friend begins showing signs of an overdose. It comes with easy-to-follow instructions, and it can save lives.
Fatal Overdose Risk Is Increasing Because of Fentanyl
Drug overdose deaths, whether intentional or accidental, are heart-wrenching for families and loved ones. According to the CDC, over 932,000 Americans have died from a drug overdose since 1999. That's nearly a million families bereft of a loved one because of drugs.
Opioids are often the culprit in fatal overdoses. The CDC states that nearly 75% of all drug overdose deaths in 2020 could be attributed to opioids, and of those, 82% were caused by synthetic opioids such as fentanyl and heroin.
It's important to know that prescription opioids can be just as lethal as street drugs. While perceived to be safer, prescription opioids may be purer in substance, which can make them more potent; also, when they don't come directly from a pharmacy, prescription opioids may not be what they seem. Counterfeit pills can look exactly like genuine pills but could contain lethal amounts of fentanyl or methamphetamine, according to the Drug Enforcement Administration (DEA). This is true for other prescription drugs such as Adderall and Xanax, and the DEA says that the majority of counterfeit pills are coming from countries like Mexico, India, and China.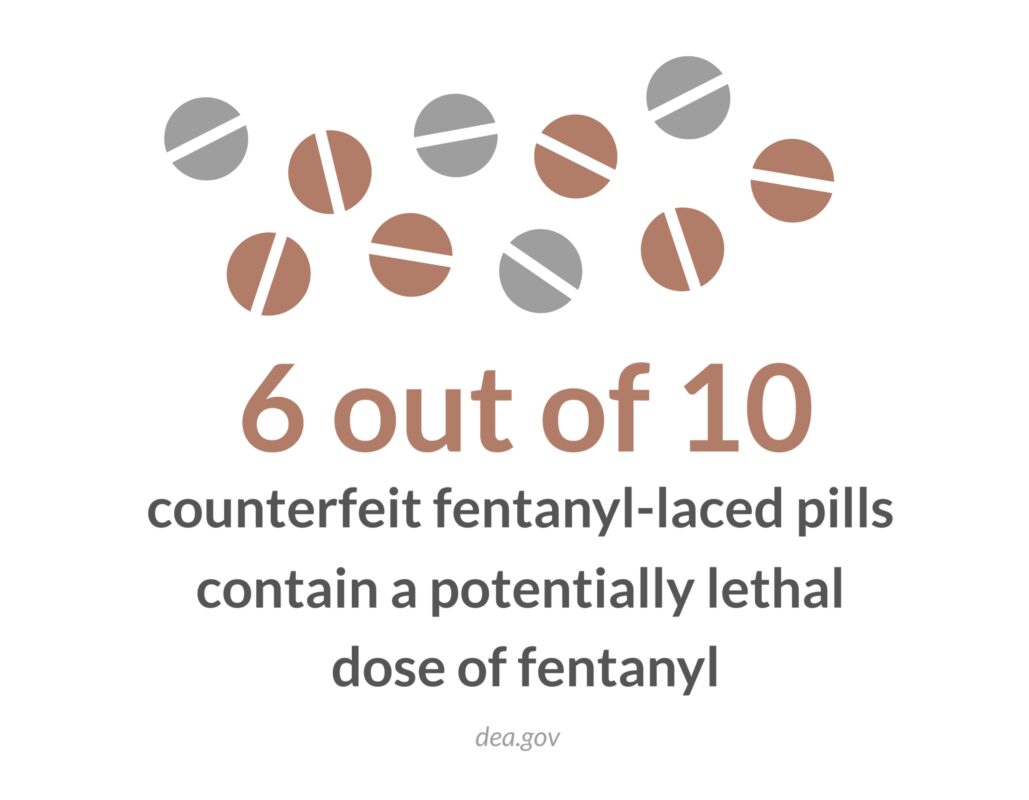 Fentanyl can be incredibly deadly, even in very small doses. The DEA discovered that 6 out of 10 counterfeit fentanyl-laced pills now contain a potentially lethal dose of fentanyl. In 2021, the DEA seized more than 20 million counterfeit prescription pills. They started a campaign called, "One Pill Can Kill," to raise awareness about lethal doses of fentanyl. If you're wondering how much fentanyl is required to cause a fatal overdose, the saying goes, "If you can see it, it can kill you." That's how powerful fentanyl is. And it's one of the main reasons why public access to Narcan can save many more lives.
Break Free From Drug Use
No one starts using drugs with the plan to become addicted. In the beginning, drugs are meant to be a solution to a problem — not another problem. But they can quickly take over your life. If you have a loved one whose livelihood has been stolen by drug use, there's hope. At The Meadows Texas, we provide research-backed treatment to help people rediscover themselves, break free from drug use, and learn to thrive again. Contact us today to learn more.