By Melissa Riddle Chalos
Facts about drugs and alcohol are as easy to come by as a few clicks on a keyboard. Within minutes, there's an avalanche of data barreling your way. Grim statistics, trends and theories, along with heartbreaking stories of real people; it can all be too much at times. But sometimes the digging turns up some pretty interesting facts about drugs and alcohol and the impact of substance abuse. We'll start with some of the downsides but hopefully leave you encouraged by some upsides.
1. Marijuana use hit an all-time high in 2020.
A high is not surprising, but all-time high? Marijuana usage rose in 2020, continuing a significant increase over the previous five years, according to the National Institute of Drug Addiction's (NIDA) annual "Monitoring the Future" study. The recent explosion put marijuana use by young adults in 2020 at its highest mark since 1983, almost 40 years.
2. COVID increased alcohol consumption dramatically.
When it comes to interesting facts about alcohol, one in particular stands out. Healthcare and addiction professionals agree: The COVID-19 pandemic and quarantine has had a dramatic impact on alcohol use and abuse. Statistics provided by the National Center for Biotechnology Information (NCBI) show that overall consumption of alcohol increased by 60.14%, with stress, increased availability, and boredom as the top reasons for the spike.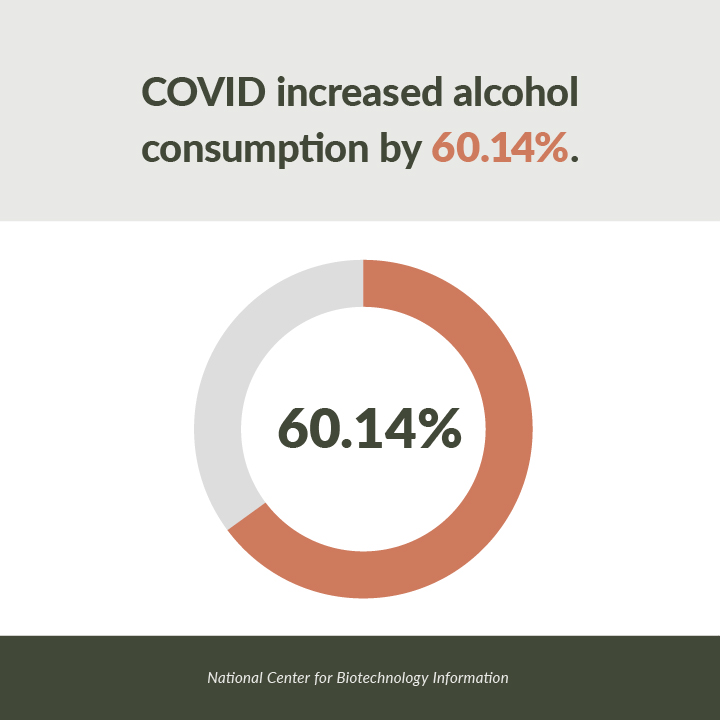 3. Overdose deaths were the highest ever last year.
In 2021, as reported by the Centers for Disease Control (CDC), there were 100,306 fatal overdoses in the US, up 28.5% from the previous year and the highest number ever recorded in US history. That's more than the entire population of Roanoke, Virginia.
4. 1.25 million years of life have been lost to overdoses.
We count our lives in years. So, when researchers at The Ohio State University began calculating the years of life lost to unintentional drug overdoses in youth, teens, and young adults ages 10 to 24, the sum total was nothing short of staggering: 1.25 million years of life completely lost. And that number only represents four years of data, according to a report published in JAMA Pediatrics.
5. Counterfeit pills are killing people everywhere.
What are Fentapills, you might ask? Umergency, an app blog for college families, reports that they are fake prescription pills laced with deadly fentanyl that look exactly like Xanax, Percocet, hydrocodone, or other drugs. Many adolescents seeking anti-anxiety medications on Snapchat accept delivery at home and never see another day of life. Fentapills have dramatically increased in the US, causing 10,000 near-lethal poisoning cases in the US in 2020, and accounting for 50% of Los Angeles County's 2021 overdoses alone. It takes only 3 milligrams of fentanyl versus 30 milligrams of heroin to overdose. According to the US Drug Enforcement Administration (DEA), 42% of pills tested contain at least 2 milligrams of fentanyl, which is a potentially lethal dose.
6. Teen drug and alcohol usage declined more than ever in 2021.
As reported by USA Today and NIDA, a 2021 nationwide survey among teens indicated the largest single-year drop in the use of alcohol, marijuana, and vaped nicotine since the annual survey began in 1975. Each substance was down between 4-12% possibly as a result of remote learning and fewer parties during the pandemic, limiting the availability and opportunity to use drugs.
7. Collegiate drinking was also lower during the pandemic.
In 2020, college students reported significantly lower alcohol usage compared to 2019, according to NIDA and the Chicago Sun-Times. Alcohol use recorded in the past 30 days dropped 6% year over year; drinking to intoxication dropped 7%, and binge drinking — consuming five or more drinks consecutively — dropped 8% overall.
8. Addiction treatment successfully helps people recover.
A national study published out of Harvard Medical School and Massachusetts General Hospital, as reported by National Public Radio (NPR) news' Brian Mann, shows that 75% of people with addiction get better when they get help. This study applied even to those who have used hard drugs over long periods of time. Once they received the support and treatment they needed, they were able to live full and successful lives. That's 20 million people in recovery nationwide.
9. Addiction is a disease of the brain.
With all the vast information we have about drug and alcohol addiction and its impact on our culture, it seems apparent that understanding its nature can help us in treating this devastating and deadly epidemic. The one question that many ask is, Is addiction really a disease? In his video series, Pleasure Unwoven, Meadows Senior Fellow Dr. Kevin McCauley explores how addiction is indeed a disease of the brain. This organ "that most embodies who we are" is both the source of the problem and the cure for addiction.
Help for Substance Abuse
Are you or someone you love struggling with substance use and wanting more than short-term sobriety? We at The Meadows Texas would love the privilege of assisting you. With a proven treatment model, our staff is equipped to help you achieve freedom from addiction and long-term health. Reach out today to ask questions and the first step to lasting recovery.